What's Available?
At Lone Pine Fruit Stand we don't order in produce to simply fill the shelves.  We grow most to the fruit here on the farm.  We we do buy, is grown regionally and from people we know.  Consequently you won't find things like bananas and oranges.  You will find regionally grown and sourced fruit grown with care by local farmers like us.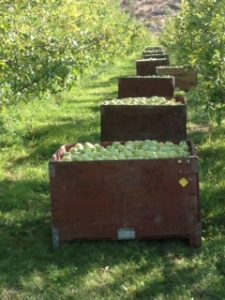 Sugar Pumpkins and Winter Squash are still in the stand… & our favorite time of year has arrived – Apple Harvest! – the season of fresh locally grown apples being harvested and delivered everyday.
Check back for updates- or call for the most current lists. We also take special orders for cases and large quantities of fruit/produce for canning.
Please call Lone Pine at (509) 682-1514
Produce in Season at the Fruit Stand
Apples

Aug – Nov

*

Pears

Aug – Nov

Cherries

June – Aug

*

Peaches

July – Sept

*

Apricots

July – Aug

*

Asparagus

April – June

Strawberries

June – July

Raspberries

July – Aug

Cantaloupe

July – Aug

Sweet Corn

July – Aug

Melons

July – Aug

Blueberries

July – Sept

Prunes

Aug – Sept

*

Nectarines

Aug – Sept

*

Plums

Aug – Sept

*

Watermelon

July – Aug

Tomatoes

July – Nov

*

Potatoes

July – Nov

Pumpkins

Sept – Nov

Walla Walla Onions

Mid July
Bloom and harvest dates may vary according to weather conditions.
* from our very own orchard to you.
In the Stand: 2020
2019 Crop Apples:  Pink Lady, HoneyCrisp, Granny Smith, Red Delicious, Ambrosia, Fuji, Braeburn, and more… .99 -$1.49 a pound
Garlic (organic) : grown in Tonasket, WA $4.99 a pound
Potatoes & Onions: grown in Pasco, WA .89 a pound
new items harvested daily/weekly. Call for most current list.
Apples

Jam Boxes, Culls, Too Pinched… Discount boxes available.
All fruits and vegetables are grown right here at Walker's Lone Pine Orchard, in our gardens, or from our friends and neighbor's harvest.
We try to sell the freshest fruit available! If you're not satisfied, we will be glad to replace the product for you or refund the cost.